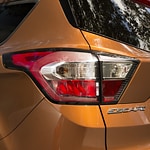 Here at Sale Ford of Kinston, we get asked a lot of questions about which vehicles are the best. Now obviously that's a real matter of preference, but we can tell you which ones we prefer. Of the compact SUVs, the Ford Escape is one vehicle that seems to be doing it all right now.
The Escape is a smaller SUV, but that doesn't mean it doesn't pack plenty of power. With a towing capacity currently sitting at over 2,000 pounds, this SUV is proof that big things come in small packages. Plus, the vehicle goes above and beyond in making your choice easy - it comes with a selection of different engines to choose from, so that you can tailor your choice to fit your needs!
To learn more about the Ford Escape and what else it might be able to do for you, come by our location here in Kinston.