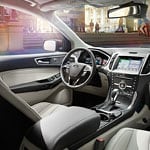 Even if you live in the heart of Kinston, you're going to have to take long trips at some point. Your vehicle might have a flashy exterior and a powerful engine, but what about the interior seating? The Ford Edge was designed with comfort and capability in mind, making it one of our favorite new vehicles here at Sale Ford of Kinston.
Leather is the essence of luxury. The Ford Edge's interior offers leather seats and a leather-wrapped steering wheel that's sleek, comfortable and tough enough to withstand long trips. To make the interior look more attractive, the designers color-coordinated the seating and added metal accents in strategic locations.
The Ford Edge even comes with ambient lighting that sets the mood for your drive. Appearance isn't everything, but when you're going to be spending a large percentage of your time in your vehicle, the Ford Edge makes the ride as enjoyable as possible.