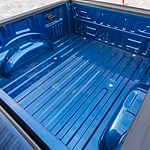 You want a powerful truck, but you don't want a gas-guzzler that burns through fuel faster than you can buy it. In the past, driving a high-performance truck could have easily cost you hundreds of dollars a month in gas alone. The all-new Ford F-150 changes all that.
This vehicle offers a hybrid engine that combines the power of gas and electricity to take you everywhere you need to go without wasting precious fuel. This might be a hybrid vehicle, but make no mistake--it's just as powerful as the traditional gas-powered vehicles. With the Full Hybrid V6 engine, you'll enjoy 430 horsepower, 570 pound-feet of torque and all the performance features that you expect from a Ford truck.
If you've never driven a hybrid vehicle before, stop by your Sale Ford of Kinston today and take the Ford F-150 out for a spin. We think you'll be impressed by its power, performance and smooth driving capabilities.