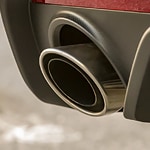 As a local Ford Mustang fan, you are certainly well-aware of this Ford sports car's performance prowess. However, do you have the same level of awareness regarding this sports car's audio engineering assets? By far, the most important audio engineering asset of the recent Ford Mustang models would be the Active Valve Performance Exhaust.
For years, sports car owners have been torn between the desire to experience thrilling on-road sound and the desire to keep their beloved communities' peaceful reputations. Now, these sports car fanatics can accomplish both of these goals by toggling between Active Valve Performance Exhaust settings, like Track, Quiet Start, Normal and Sport.
Sale Ford of Kinston recommends Normal mode for the bulk of your Ford Mustang driving activities, Quiet Start for peace maintenance and the Sport setting when the aforementioned thrilling on-road sounds are appropriate. Ford Mustang purchasers will be grateful for the Active Valve Performance Exhaust's sound flexibility.