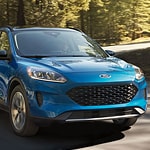 Whether you desire a vehicle with Active Park Assist or a hands-free foot-activated liftgate, the Ford Escape has convenience features that are great for anyone who wants an SUV that offers them an elevated experience. At Sale Ford of Kinston, our team is always ready to show off the extensive amount of convenience features for the Ford Escape!
The Active Park Assist 2.0 feature is available with the Ford Escape and helps drivers get in and out of parking spots that are tricky to maneuver. All you have to do is pull up to a parking spot in your Escape and put the SUV in neutral. Then, move your foot off of the brake pedal and push the button for your Escape to park itself. You can also use this convenient feature to get out of a parallel parking space.
You can access the back of the Ford Escape via the hand-free liftgate. This feature is excellent if you run a lot of errands, buy bulk groceries, or have to load a large amount of adventure cargo into your Ford Escape.