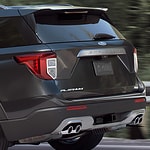 Ford created the Explorer to be one of the top SUVs with more space and more performance. In addition to the base and upgraded trims, Ford also included a hybrid electric engine that gets insane horsepower and fuel economy. The base trim of the Ford Explorer offers a 2.3-liter turbo four-cylinder that delivers 300 horsepower and 310 pound-feet of torque.
All Explorer models come with rear-wheel drive and a 10-speed automatic transmission. Optionally, drivers can look at all-wheel drive models at Sale Ford of Kinston. In addition, Ford included an electric hybrid motor that delivers power with a 3.3-liter V6 engine, generating 365 horsepower and 380 lb-ft of torque.
The Ford Explorer Platinum and ST offer the most power with 3.0-liter twin-turbo V6 engines that get 365 horsepower and 400 horsepower. If you love acceleration power, the Ford Explorer goes from 0 to 60 mph in 5.3 seconds. The Ford Explorer ST is definitely the sporty, most powerful of the SUV models.