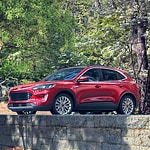 The Ford Escape has been a lauded vehicle for a number of years. However, we think that the 2022 Escape is one of the best versions to date. This vehicle not only drives well and packs its interior full of amenities
its exterior is one of the most accented base models we've seen in some time.
This SUV's exterior shows off some creative flourishes with the addition of 19-inch Luster wheels with nickel accents. Its grille will also make quite an impression on anywhere you drive it into with its five stacked chrome bars.
Overall, we think that this just might be the most sophisticated Ford Escape model we've seen so far. Designers have enhanced the slope of certain curves to give the vehicle a more dynamic and imposing personality. We can certainly tell the difference, and think you will too.