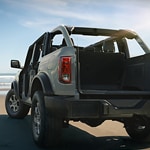 The Ford Bronco is a compact crossover sport utility vehicle that has been in production for several years. The first generation of the Bronco was available as a 2-door wagon, but it was not until the second generation that the Bronco became a 4-door SUV.
The exterior of the Ford Bronco Sport was designed with off-road capability in mind. The wheelbase is long and has a high ground clearance. The body is made of aluminum and steel, which makes it lightweight, but still able to withstand harsh weather conditions. The front grille is large, with three horizontal bars across it. There are also two fog lights on either side of the grille as well as four rectangular headlamps.
The rear end of the Ford Bronco Sport has an integrated spoiler on top of its tailgate. There are also tail lights at each corner of this part of the vehicle. This gives the Bronco its signature aggressive looks and stature.