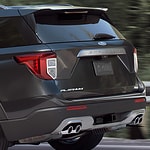 The Ford Explorer has many features that make it one of the best SUVs on the market. One feature that is especially useful for people in cold climates is the tri-zone electronic temperature control. This system allows the driver to set a preferred setting for each zone. This helps keep the temperature inside the SUV constant and comfortable irrespective of the external weather conditions.
It also features a heated steering wheel that does a great job of warming up the driver's hands when driving in the winter. This makes driving the Ford Explorer an enjoyable experience. Long distance driving in the cold weather is now a breeze with this SUV.
The Ford Explorer has a luxurious look that won't break the bank. The leather seats are tri-diamond perforated to allow for airflow and allow passengers to have a comfortable ride in long distance trips. The extended center console offers a lot of storage space, while the rotary gear shift dial is easy to use.